Week #5 & #6 - Preparing the launch!
Mon Jul 01 2019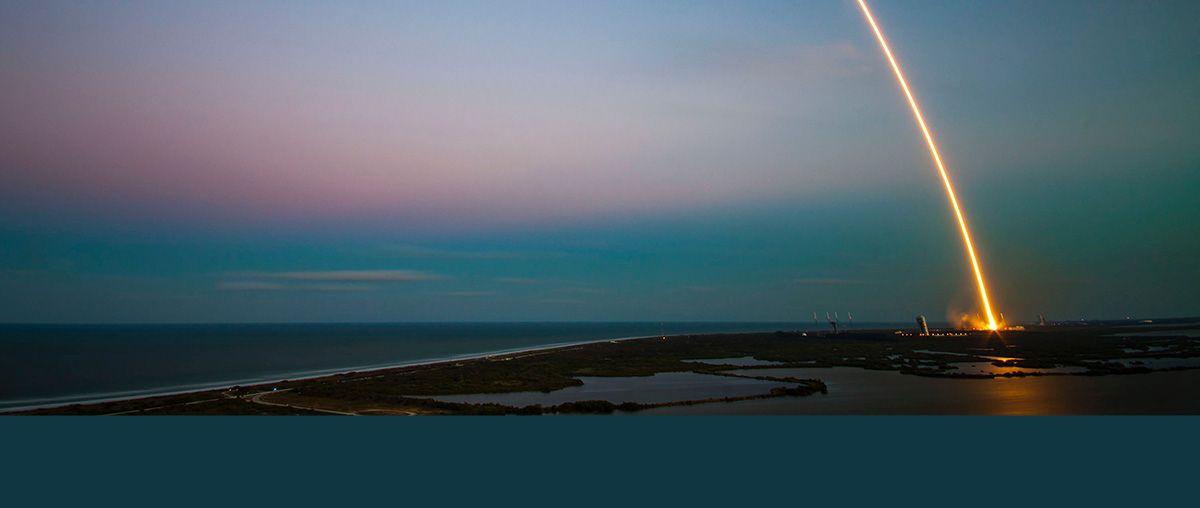 Hello my mysterious reader! As you can see, I have decided to change the cadence of these posts from weekly to one post every two weeks. Writing weekly has become harder every time and I feel like I'm forcing myself too much o keep up to the pace.
These weeks have been probably the most intense of all. With the core SaaS features done, I have been focusing 100% on the value proposal, create great looking CVs in an easy and fast way.
TL;DR
Byte Vitae has gotten a new logo
The product is 100% working
Users can now add manual info besides Github one
I have decided for a Freemium business model
Working on a new kickass UI
The stats
Again, 0 marketing done and 0 improvement
ByteVitae
📩 Subscribers…….........................……... 34 (+0)
💸 Money spent......................................120€
👨🏻‍💻 Users…….............................……….…..0
💳 PRO upgrades....................................0
💰 Revenue………………………….………......0€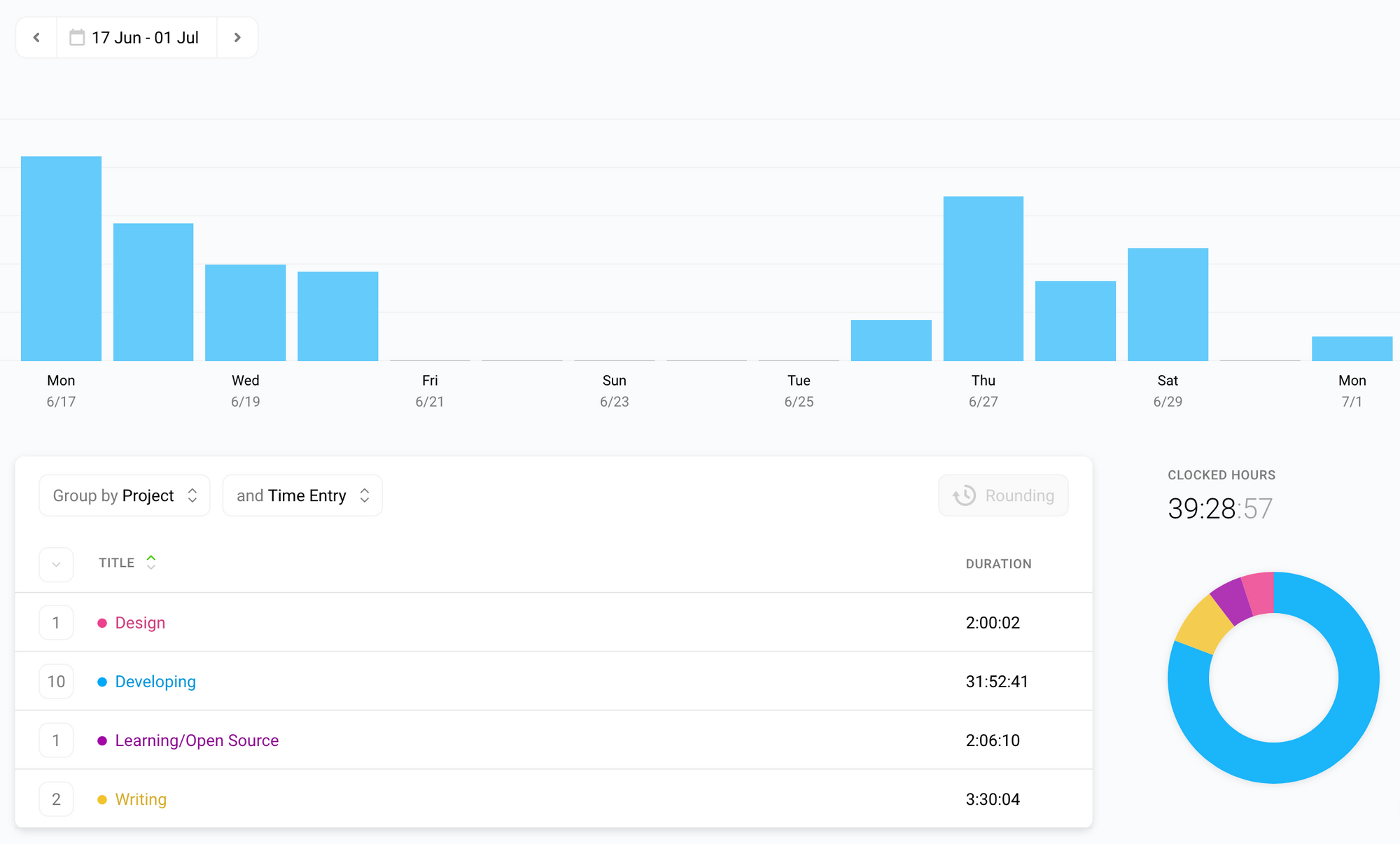 I got a visit from my family so I took a little "vacation" there
📰 Blog updated
First of all, I took some time this week to update this blog and theme to the latest Ghost version. I wasn't aware that I was several major versions out of date. This improved the admin panel and fixed a few bugs (like the RSS feed) which should now be working.
🎨 Logo (~40€)
Making logos is one of those things that completely suck the energy our of me. Not sure why, but having a pending task titled: 'Design Logo' completely fucks with my mind (probably PSTD from the freelance days). So I decided to spend the coin and hire someone to make a logo for me.  I went to People Per Hour and found a designer I liked. I sent Zubair the idea I had in mind and he sent me 3 proposals in 48h, one of which I really liked.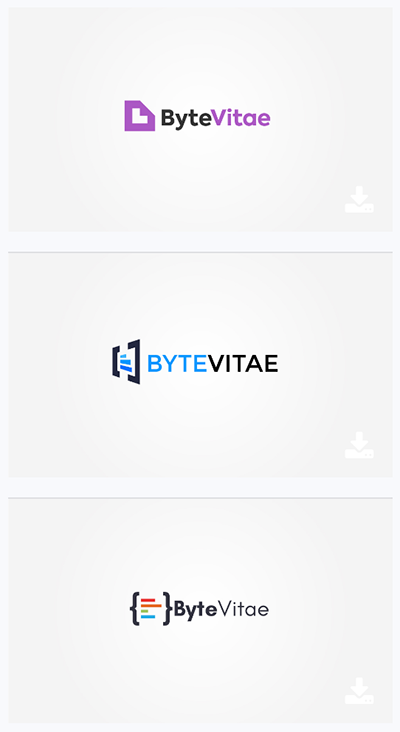 psst... it's the first one
To be honest, I think I'm always going to order logos from now on, the price was so low and the quality good enough that I think it's way better to invest that time in other stuff.
🔥 The first CV!
At last! Milestone achieved, I have been after this for sooo long now. The product is fully functional and the proof of it is: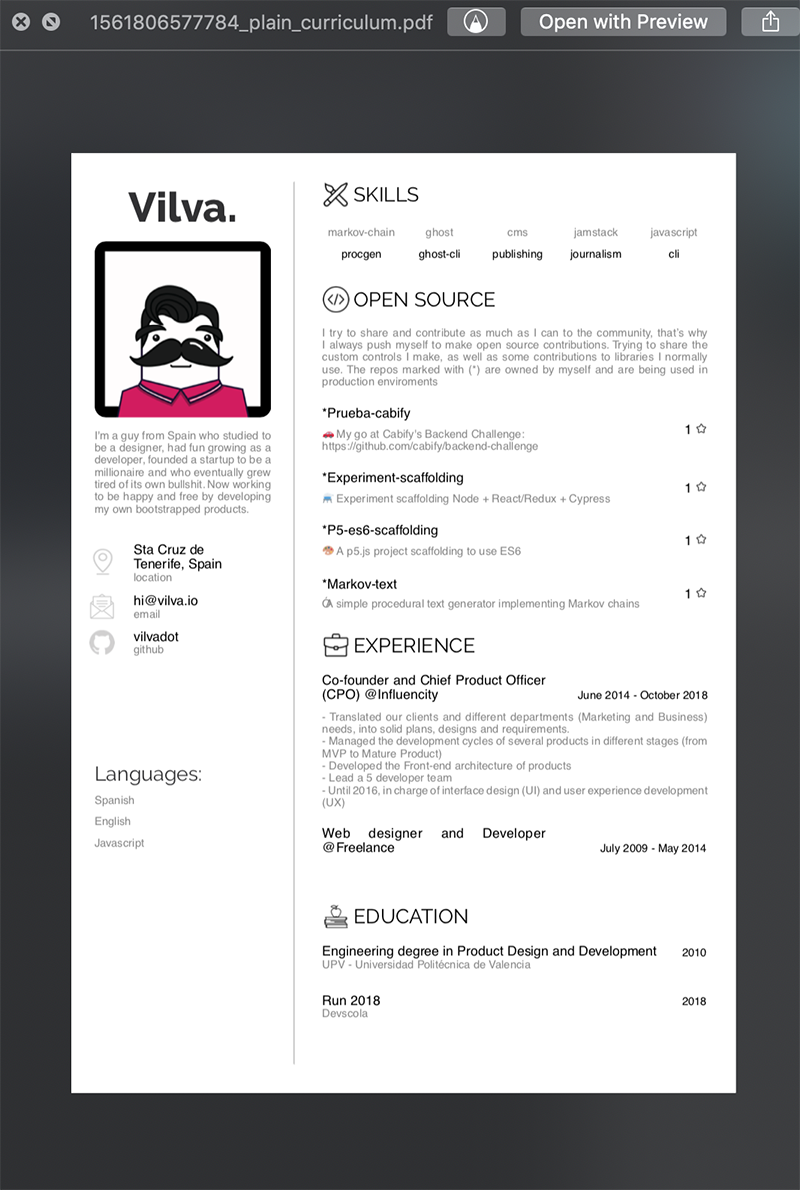 The first Currículum Vitae 100% generated with ByteVitae. Fuck yeah! 🤟🏻
Now it's all a matter of tweaking things, improving the design and gathering feedback to fine tune the templates and info to real user's needs. But I will have to wait until the launch for that.
📝 Add manual info
With all the infofmation obtained from Github, I still need a way to include some other stuff like education, experience or contact data that Github doesn't provide. In the future (very close future ;) ), this will be automated, but for now, the user must add it manually. Only once and available forever.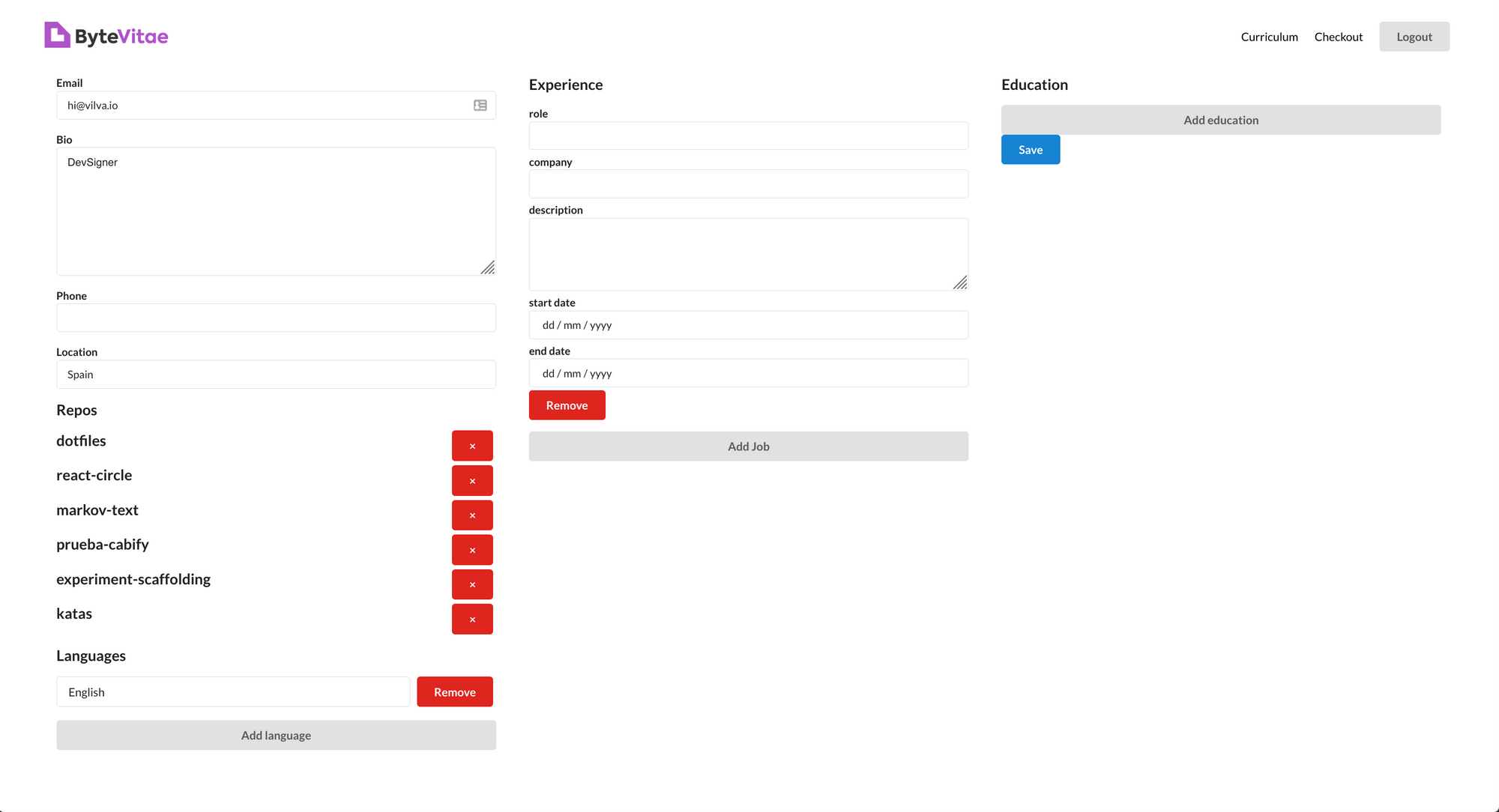 Right now it's a messy form, but it proved that even with this shitty form the process was pretty fast and comfortable. Way better than designing it by hand. So I can't wait to test it with the new UI!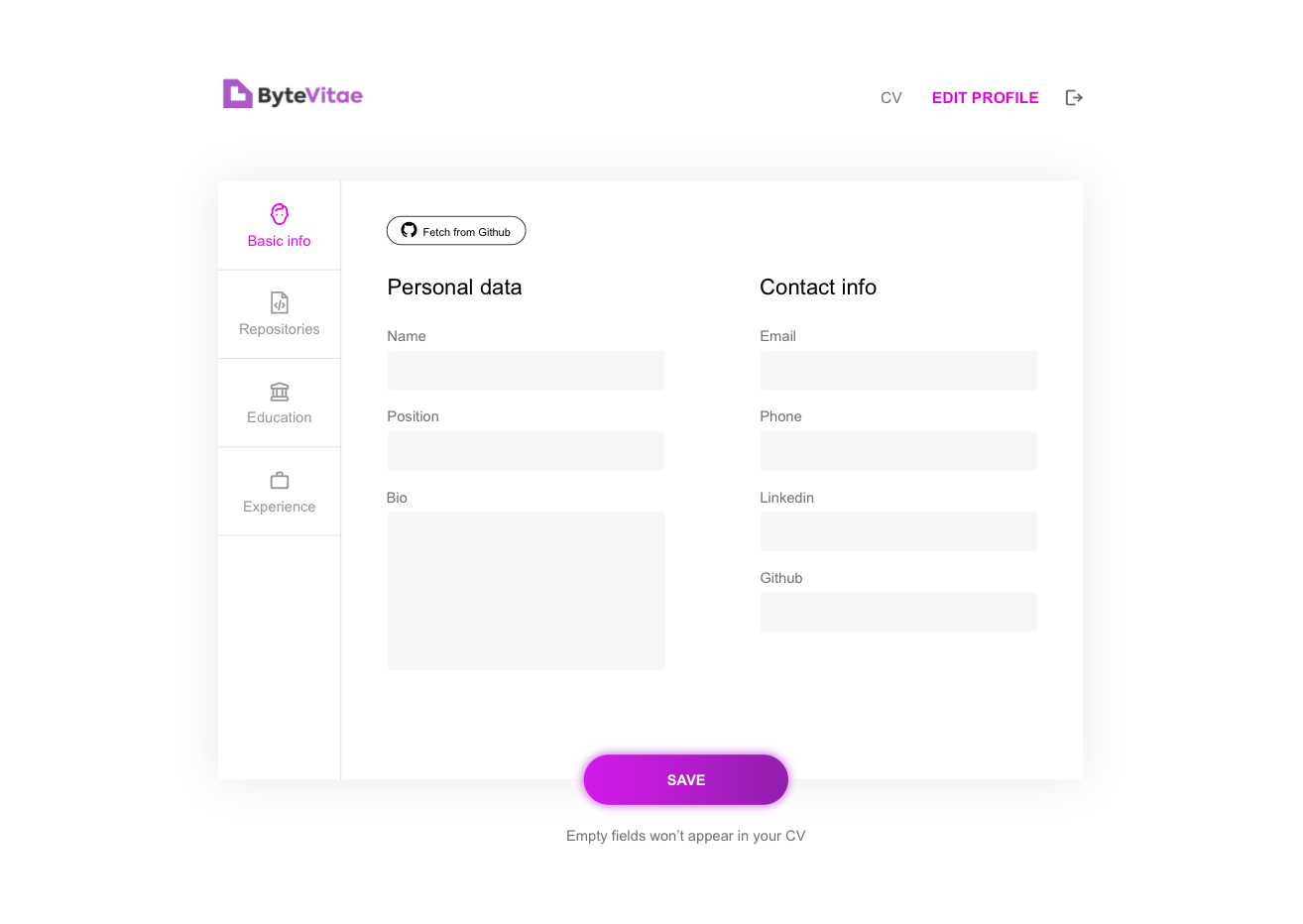 A user CV can now have Personal info, contact data, social media/links, repo information, skills, education, and past experience. Not bad!
🌈 UI
With all the core stuff done what is missing is a kickass UI. I think it could be one of the biggest selling points of the product so I invested some time giving it love. It might change a bit but this is the direction I'm going towards: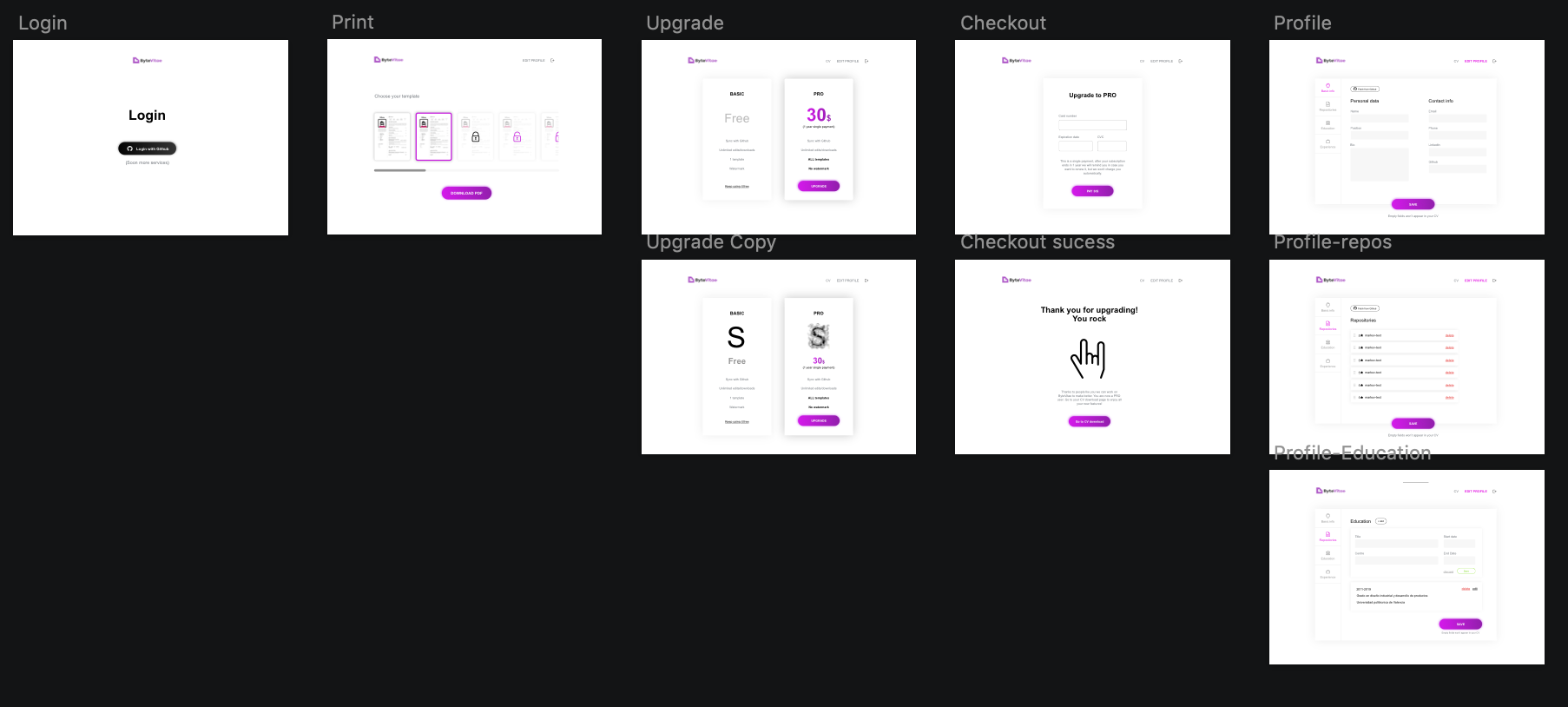 💰The business model
I have been thinking about this for quite some time, how am I going to charge for using the product? At the end I have settled on a freemium model: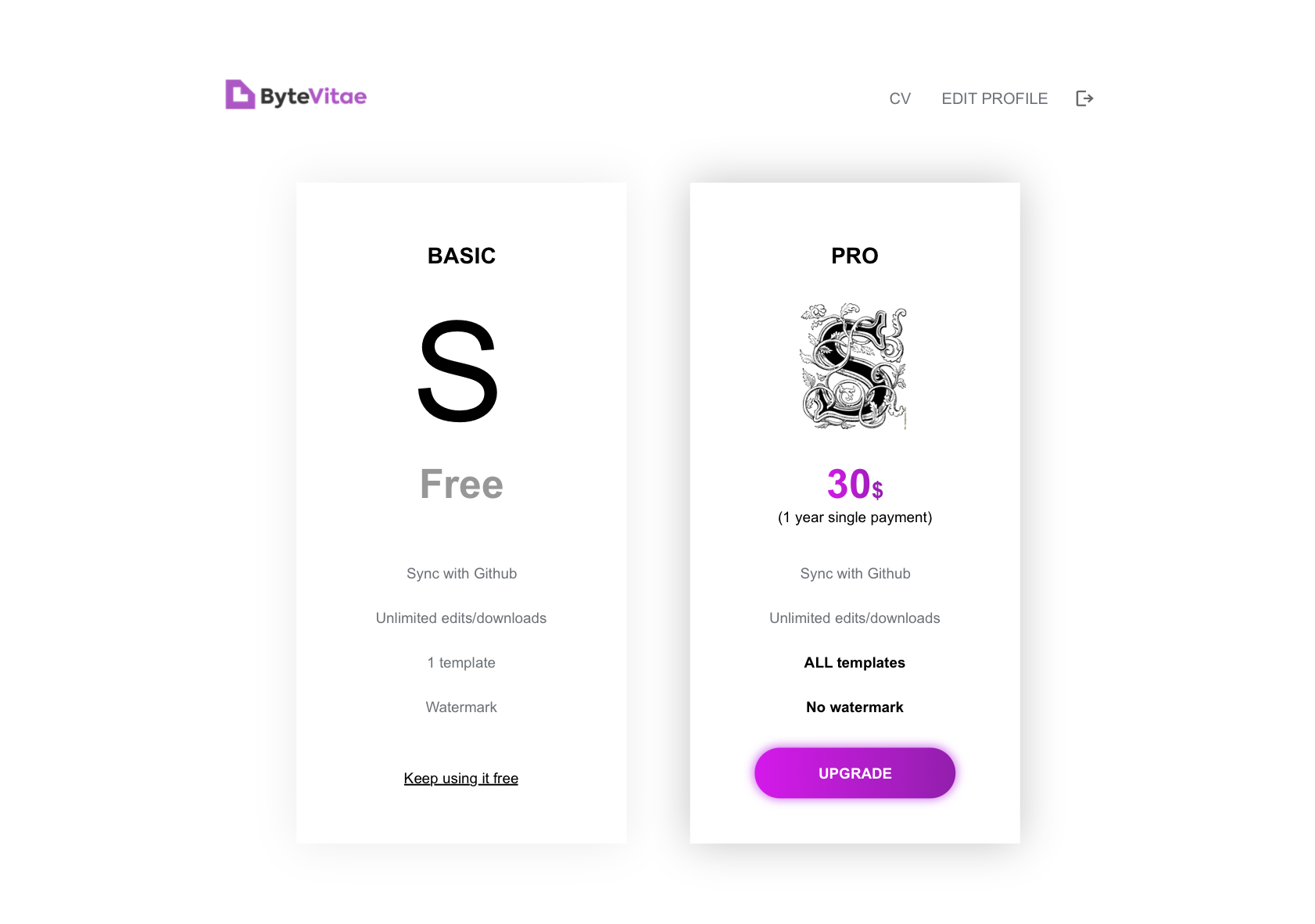 If you decide to use it free you can generate as much CVs with the simple template as you want but they will come with a little non-intrusive link watermarked in each page. This means that at least for using it for free you are helping spread the word. I expect this will work for a lot of users.
If you upgrade to PRO you remove the watermark and you get access to all templates that will be included and possibly other goodies as the product grows.
I'm happy with the model, but I will have to wait and iterate as I get feedback on its results.
🚀 Launch
The biggest thing this week... I'm launching! The product is fully working at this stage, once I give a polish to the UI I'm going to launch it in stages to test things out and get some feedback. My planned launch is as follows:
Private BETA: This week, friends, family, and Typeform emails. Basically, people close to me who I can get tasty feedback to improve the product before the final release.
Public BETA: Next week, to indiehackers.com. Here I expect minimal traffic but good feedback, which will prepare me for the final release.
Final Launch: Once polished 100%. Hackernews, ProductHunt and maybe Reddit (not very used to the last one). The scary stuff 😱. One single shot for this, so that's why I'm polishing the product so much. I believe the product offers great value, so I rather not fuck it up with a bad UI or bugs. I might also have to prepare server-wise for this since I've heard a good launch can easily take down servers.
Next Steps
So right now I'm working on implementing the UI I designed and preparing everything for the launch, which means:
Make sure the payment flow works as expected
Create a new landing page
Get at least 5 more CV templates done
Launch, gather feedback and improve FAST
Prepare product hunt graphics and release
Vilva.